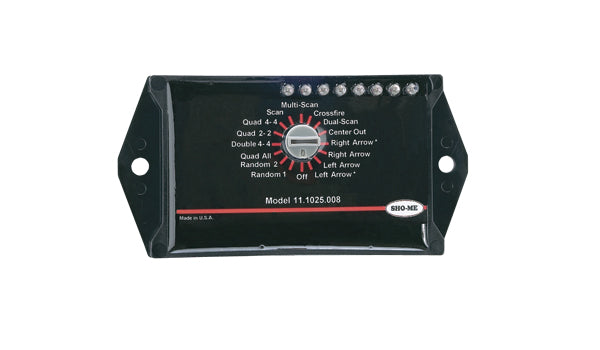 Micro-Rotary LED Switch with Multi-Output Flasher
Easily control LED lighting systems with these solid-state, multi-output LED flashers with built-in micro-rotary switches.
Micro-rotary switch enables fingertip control of 15 flash patterns including crossfire, directional arrows and center out.
LED flash pattern indicator lights visually display selected flash pattern.
Epoxy-sealed to ensure reliable operation and protect against moisture, vibration and shock.
Surface mounts with screws (provided).
Model 11.1025.008 has eight negative 1A outputs.
Standard 12V; also available in 24V upon request.
Measures 2" H x 1/2" D x 4" L
For use with LED lights only.
Negative switched.
Made in the U.S.A.
Sold out
Original price
$ 1,379.00
-
Original price
$ 1,379.00