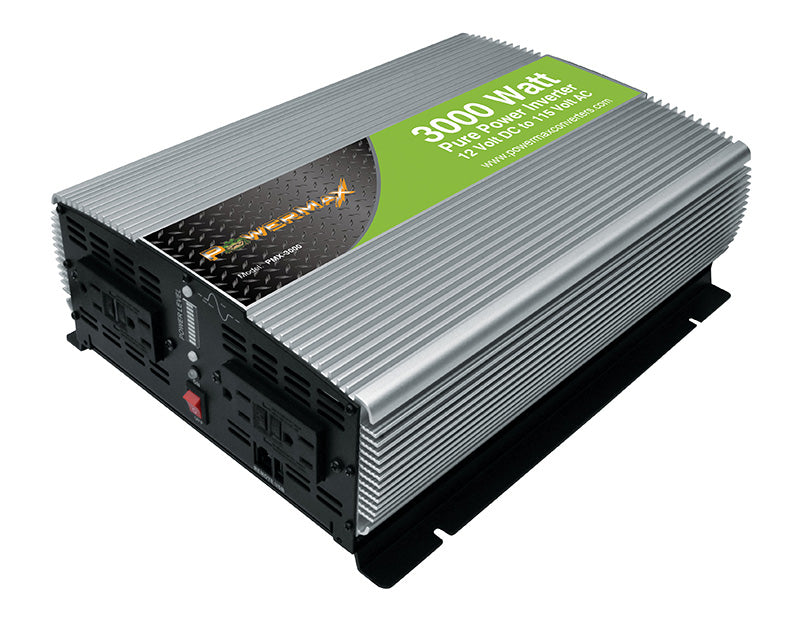 PMX 3000W-PSW INVERTER
The PowerMax PMX series of Power Inverters are designed to provide clean 120 Volt AC Power from a 12V battery or bank for many applications. Our PowerMax Inverters provide a Pure Sine Wave output which is essential to efficiently running a wide variety of sensitive electronic devices such as Office Equipment, Computer, Power Tools, Kitchen appliances, Microwaves and Home Electronics like TV, Stereo's and more.
These are a must-have item for any Motorhome to run the 110V equipment when camping off-grid without a 110Vac supply
Features Include:
Inverts 12V DC to 120V AC
Maximum continuous Output Power 3000 Watt
Meets 120V AC electronic appliance safety operating standard.
It can be used to power most electronic appliances or equipment.
Specifications:
MAX continuous Output Power 3000 Watts
Peak Output Power: 6000 Watts (0.3 sec)
DC Input Static Current (No Load): ≤ 1.5 Amp
AC Output Wave Form: Pure Sine Wave
Low Voltage Alarm: 10.5 ± 0.5V
Low Voltage Cut Off Level: 10.5V
Auto-reset after shut-down: 12 V ±0.5V
High Voltage Cut Off Level: 15V-16.5V
Output AC Voltage: AC 115V ± 10% RMS
Output Frequency Level: 60 ± 1Hz
Overload Power Range: 3000 Watts +5-30%
4 x AC Outlets (2 x GFCI)
USB Power Port Output V/A: DC 4.7-5.3V / 2100mA
Full Load Optimum Efficiency: ≥ 85%
AC Output Short Circuit Protection: system shut down (no damage)
Temperature Protection: < 65°C
Cooling Fan: Dependent on inner temperature rising above ≥ 45°C
LED Indicators: normal/Green, fault/Red
Remote Control Feature: Yes, available separately
Save

0

%
Save %
Original price
$ 12,239.00
-
Original price
$ 12,239.00
$ 12,239.00
-
$ 12,239.00
Current price
$ 12,239.00