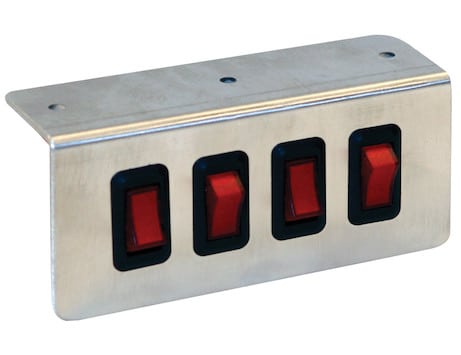 PRE-WIRED QUAD SWITCH PANEL
DESCRIPTION
TECHNICAL SPECS
Unit comes pre-wired and fused for your convenience.
Back-lit switches mounted in a sturdy aluminum bracket.
Pre-Wired Quad Switch comes in an aluminum bracket ready for Installation. The pre-assembled panel comes with an inline fuse holder containing two 10A blade style fuses (20A total for the panel), four LED back lit rocker switches, and all required wires.
Product Common Use:
In-Cab Electric Controls
SPECIFICATIONS DOWNLOAD
FinishPlain
Fuses Pre-Installed (Y/N)Yes
Height2.25 "
Length4.75 "
MaterialAluminum
Maximum Functions Per Button1
Mount StyleDash
Number Of Functions4
Number Of On/Off Switches4
Pre-Fused (Y/N)Yes
Pre-Wired (Y/N)Yes
Prewired (Y/N)Yes
Programmable (Y/N)No
Switch StyleRocker
Width1.50 "
ColorSilver
Min Order Qty1
Multiple Sale Qty1
Product Code639
Sell Pack TypeBox
Shipping Weight0.530
UPC724920100199
Save

0

%
Save %
Original price
$ 581.00
-
Original price
$ 581.00